Best Small Cryptos to Invest in 2023: A Comprehensive Guide to High Potential Altcoins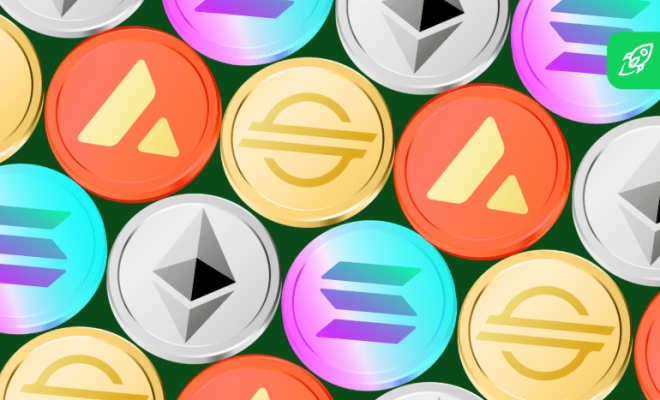 With the increasing popularity of cryptocurrencies and blockchain technology, investors are constantly seeking the next big thing in the market. While established cryptocurrencies like Bitcoin and Ethereum continue to dominate headlines, many smaller, lesser-known projects offer high growth potential for those willing to take on higher risk. In this comprehensive guide, we'll explore some of the best small cryptocurrencies to invest in 2023, diving into their use cases, technology, and potential for future gains.
Please note that investing in smaller cryptocurrencies is inherently risky, and the information provided in this article should not be considered financial advice. Always conduct thorough research and consult with a financial advisor before making any investment decisions.
Best Small Cryptos to Invest in 2023
Chainlink (LINK)
Chainlink is a decentralized oracle network that aims to bridge the gap between smart contracts and real-world data. By providing secure and reliable off-chain data feeds, Chainlink allows smart contracts to access information from various sources, such as APIs, data providers, and traditional banking systems.
The demand for reliable oracles is expected to grow as more industries adopt blockchain technology and smart contracts. Chainlink's solid fundamentals, growing ecosystem, and strong partnerships make it a promising small-cap investment in 2023.
Polkadot (DOT)
Polkadot is an innovative blockchain protocol designed to enable cross-chain communication and interoperability between different blockchain networks. It aims to create a decentralized and scalable internet of blockchains, allowing data and tokens to be seamlessly transferred across networks.
With its unique consensus mechanism, parachain architecture, and growing developer community, Polkadot is well-positioned to capitalize on the demand for interoperable blockchain solutions. Investors seeking exposure to a promising infrastructure project may consider Polkadot as a potential small-cap investment.
Polygon (MATIC)
Polygon is a Layer 2 scaling solution for Ethereum that aims to provide faster and cheaper transactions through its multi-chain ecosystem. By leveraging Plasma, Proof-of-Stake, and other sidechain technologies, Polygon enables Ethereum-based projects to scale effectively while maintaining security and decentralization.
As Ethereum continues to face congestion and high gas fees, Layer 2 solutions like Polygon are likely to play a crucial role in the future of the network. With an expanding ecosystem and growing adoption, Polygon is a compelling small-cap investment for those bullish on Ethereum.
Cosmos (ATOM)
Cosmos is a decentralized network of independent, scalable, and interoperable blockchains, often referred to as the "Internet of Blockchains." It aims to address the problems of scalability, usability, and interoperability in the blockchain space through its innovative Tendermint consensus mechanism and Inter-Blockchain Communication (IBC) protocol.
With its unique approach to cross-chain communication and a growing number of projects built on the Cosmos ecosystem, ATOM is an attractive investment for those interested in the future of blockchain interoperability.
Aave (AAVE)
Aave is a decentralized finance (DeFi) platform that enables users to lend, borrow, and earn interest on various cryptocurrencies. It is built on the Ethereum blockchain and offers innovative features such as flash loans, which allow borrowers to take out loans without collateral, provided they are repaid within a single transaction.
As the DeFi sector continues to grow and mature, platforms like Aave are poised to benefit from increased adoption and demand for decentralized financial services. With its innovative features, strong development team, and expanding ecosystem, Aave is a promising small-cap investment in the DeFi space.
Theta Network (THETA)
Theta Network is a decentralized video streaming platform built on its own native blockchain. It aims to address the limitations of traditional content delivery networks by utilizing a peer-to-peer network of nodes that share bandwidth and resources to deliver high-quality video streams.
As demand for video streaming and content delivery continues to grow, Theta Network's innovative approach to decentralized streaming could disrupt the industry. With its growing user base, strategic partnerships, and potential to capture a share of the global streaming market, THETA is an intriguing small-cap investment for those interested in the future of decentralized video delivery.
Elrond (EGLD)
Elrond is a highly-scalable and secure blockchain platform designed for distributed applications (dApps) and enterprise use cases. It employs a unique consensus mechanism called Secure Proof of Stake (SPoS) and Adaptive State Sharding technology to achieve high throughput, fast transaction speeds, and low latency.
With its focus on scalability and performance, Elrond is well-suited to address the growing demand for efficient and accessible blockchain solutions. Its native token, EGLD, is used for various network activities, such as staking, governance, and transaction fees. The potential for Elrond's technology and the increasing adoption of its platform make it an attractive small-cap investment for 2023.
Kusama (KSM)
Kusama is a scalable, multi-chain network designed as a "canary" or experimental version of the Polkadot protocol. It enables developers to test their projects in a live environment before launching them on Polkadot, providing valuable insights and feedback. Kusama's relaxed governance model and faster iteration cycles make it an ideal platform for early-stage projects and innovative blockchain experiments.
Investing in Kusama allows investors to gain exposure to the cutting-edge developments happening on the Polkadot ecosystem. With its unique value proposition and strong connection to Polkadot, KSM is a compelling small-cap investment for those interested in blockchain innovation.
Helium (HNT)
Helium is a decentralized wireless network powered by a community of users who deploy and maintain hotspots, which provide wireless coverage for Internet of Things (IoT) devices. Hotspot owners are rewarded with HNT tokens for their contributions to the network, creating a decentralized and incentive-driven infrastructure for IoT connectivity.
As IoT adoption accelerates, demand for scalable and cost-effective wireless networks is likely to increase. Helium's community-driven approach and its potential to disrupt traditional telecommunications networks make it an interesting small-cap investment in the IoT space.
Terra (LUNA)
Terra is a blockchain platform focused on creating stablecoins pegged to various fiat currencies, enabling seamless and decentralized payment solutions. Its native token, LUNA, is used for collateralization, governance, and staking within the Terra ecosystem.
Terra's growing adoption as a payment platform, particularly in the Asia-Pacific region, and its expanding ecosystem of dApps make it a promising small-cap investment in the stablecoin and payments sector. With its innovative approach to creating algorithmic stablecoins, Terra has the potential to become a key player in the future of digital payments.
Conclusion
These small-cap cryptocurrencies represent a diverse range of investment opportunities in various sectors of the blockchain and crypto industry. However, it's important to keep in mind that investing in smaller cryptocurrencies comes with higher risk and volatility compared to more established projects. Always conduct thorough research, consider your risk tolerance, and consult with a financial advisor before making any investment decisions.
Diversifying your portfolio across multiple projects and sectors can help mitigate risks and increase the potential for long-term gains. By staying informed about the latest developments in the crypto space and carefully evaluating potential investments, you can increase your chances of success in the dynamic and rapidly evolving world of cryptocurrencies.